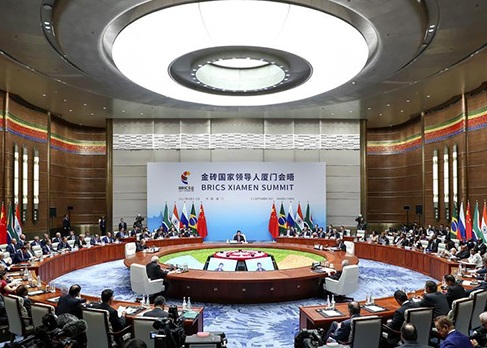 Dokalam Done, India And China Have 'Forward-Looking Conversation' At BRICS Summit
Xiamen (CHINA) – September 5th, 2017 – Putting behind the Dokalam standoff, India and China today agreed on a "forward-looking" approach in their ties and make more efforts, including strong cooperation between their security personnel, to ensure that such incidents do not recur.
In their first substantive meeting post the 73-day Dokalam face-off, Prime Minister Narendra Modi and Chinese President Xi Jinping held "constructive" talks during which it was reaffirmed that maintaining peace and tranquillity in the border areas was a pre-requisite for the development of India-China relations.
"Met President Xi Jinping. We held fruitful talks on bilateral relations between India and China," Modi tweeted after his talks with Xi.
The prime minister met the Chinese leader for more than an hour during which they also talked about inter-governmental mechanisms such as a joint economic group, security group and strategic group which could help both countries move forward, Foreign Secretary S Jaishankar told reporters after the meeting.
Asked if both the countries have left behind the Dokalam episode, he said, "It was a forward-looking conversation…and not a backward-looking one."
The two leaders also emphasised on the need to make efforts to enhance and strengthen the mutual trust between the two sides, he said, adding that it was felt that "the security and defence personnel must maintain strong contacts and cooperation and ensure that the situation which happened recently does not recur."
He said it was natural between two neighbours or large powers to have differences but they should be handled with mutual respect and efforts should be made to find common ground in addressing them.
Jaishankar said there was a reaffirmation of the Astana spirit that the two sides will not allow differences to become disputes.
There was a very strong affirmation at the leadership level that it is in the interest of both the countries to keep this relationship on an upward trajectory, the foreign secretary said.
In his initial remarks during the meeting, Modi congratulated Xi on hosting a "very successful" BRICS Summit, saying that the conference was a success in making the grouping more relevant in a fast-changing world.
The Modi-Xi meeting came amid diplomatic efforts by the two sides to overcome the bitterness caused by the face-off between their troops in the Dokalam area of the Sikkim sector.
The Chinese and the Indian troops were engaged in a standoff since June 16 after the Indian side stopped the construction of a road by the Chinese Army.
On August 28, India's External Affairs Ministry announced that New Delhi and Beijing have decided on "expeditious disengagement" of their border troops in the disputed Dokalam area.
In Beijing, Chinese Foreign Ministry spokesman Geng Shuang said that during their meeting, "President Xi stressed that China and India are each others' opportunities not threats."
"We hope India can view China's development in a correct and rational way," Geng quoted Xi as saying.
Asked whether the recent standoff at Dokalam figured in the talks, Geng said, "Xi pointed out that China and India should respect each other, seek common ground and shelve differences to ensure peace and tranquillity in the border area."
"As far as I know, Prime Minister Modi agreed that the two sides should work together to ensure peace and tranquillity in the border areas," Geng said.
Xi told Modi that if the bilateral relationship can grow in a sound and steady way it would serve the interests of the two countries and also serve the joint aspirations of the region, according to Geng.
"Xi stressed that China and India are each other's important neighbours and two important markets and emerging countries," Geng said.
During the meeting, the Chinese President said that "in recent years the two sides reached wide of consensus on developing bilateral relations including strengthening partnership. The two sides have been moving forward and making headway upholding this principle."
"China would like to work with India to uphold the five principles of peaceful coexistence (Panchsheel), advance political mutual trust, mutually beneficial cooperation and move forward the development of bilateral relations along the right track," Geng quoted Xi as saying.
He quoted Xi as telling Modi that, "We need to show to the world that the peaceful coexistence and win-win cooperation is the only right choice between the two countries. The two countries should shelve differences and seek common ground and together ensure peace and tranquillity at the borders."
Xi also called for alignment of strategies to expand economic cooperation.
"On the economic and social development, the two countries have great potential for cooperation which should see greater synergy in strategy alignment, expand cooperation in infrastructure connectivity as well as international affairs," the Chinese president said.
"Together we can move the international order in a more equitable and reasonable way," Xi told Modi, according to Geng.
"China would like to work with BRICS countries to implement the outcomes of the BRICS Summit to usher in a new chapter for the BRICS cooperation," Geng quoted Xi as telling Modi.
Written by Huffpost
http://www.huffingtonpost.in/2017/09/04/brics-meet-to-help-mend-india-china-ties-predict-experts_a_23196751/
Related Post
March 16th, 2018 – The United Bank for Africa (UBA) Plc and the Agence Française de Development (AFD), France's public and solidari...
March 18th, 2018 – Telefonica Business Solutions and Huawei have signed a global alliance for the development of new comms solutions f...
March 6th, 2018 – Small businesses operating in Africa's infrastructure sector are set to benefit from a new US$74mn re-guarantee fa...