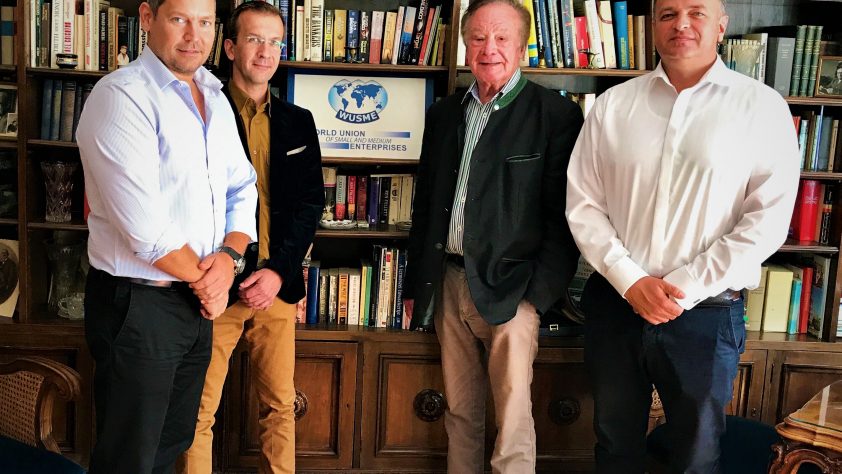 WUSME met Fly Vision of UAE and Hungary
September 14th, 2017 – WUSME is always aware of the importance of new technologies. The real challenge for the future for Small and Medium Enterprises is to be able to seize the opportunities offered by Industry 4.0, or the new way to produce by leveraging the tools offered by technology to get more and more competitive on the world market and get many benefits ranging from economic savings to improved production processes.
To this end, WUSME General Secretary Norbert W. Knoll von Dornhoff met with a delegation of Fly Vision on 14th September 2017.
Flyvision LLC. (www.flyvision.ae) opens up new dimensions in outdoor with its highly innovative creations revolutionising the traditional practice and prevailing view in the out-of-home world. The company offers an outdoor construction that "moves", creates motion like effect without any electronic drive.
Fly Vision will now apply for membership at WUSME to receive support of business beyond borders and cooperation with WUSME members worldwide.
WUSME General Secretary Norbert W. Knoll von Dornhoff pictured with a delegation of Fly Vision
Related Post
REPUBLIC OF SAN MARINO – January 31th, 2018 – The Written Statement presented by WUSME for the fifty-sixth Session of the Commission...
January 19th, 2018 – EU now (in January 2018) confirmed what WUSME in September 2014 in its workshop "Waste to Energy" already rec...
January 17th, 2018 – India had an important economic growth in the last few years and, according to forecasts, also for 2018 positive valu...