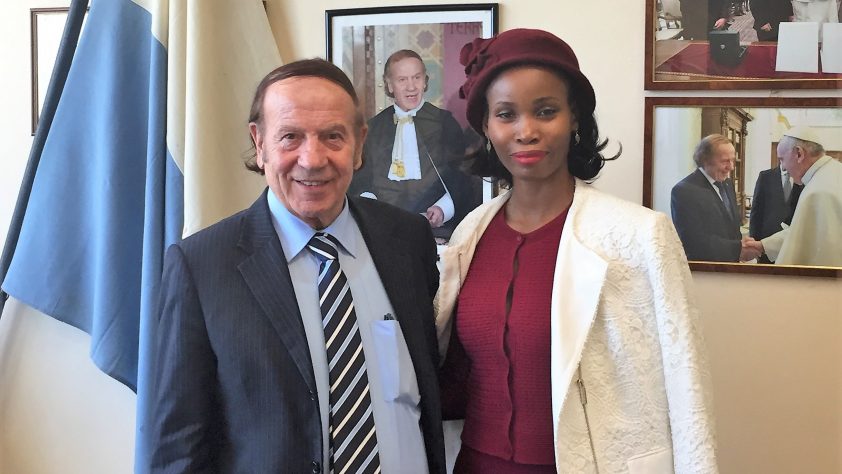 President Gian Franco Terenzi meets WUSME Ambassadress in Angola Conceição Vaz Pedro
REPUBLIC OF SAN MARINO, May 5th, 2017 – In Africa, the presence of the WUSME has been strengthened through the appointment of nine WUSME Ambassadors with specific reference areas. Among the countries also Angola, in Central Africa, represented by the WUSME Ambassadress Ms. Conceição Vaz Pedro. In recent years Angola has been the African country with the highest economic growth driven mainly by oil extraction. In addition, Angola according to the latest data, is diversifying the economy to offer new development opportunities and to foster national and foreign investments (in-depth article: https://nationalaccordnewspaper.com/angola-steady-growth-prospects-follow-liberalization-diversification/).
WUSME Ambassadress Ms. Conceição Vaz Pedro pictured with WUSME President Gian Franco Terenzi in Headquarters of San Marino Republic
Related Post
NEW DELHI – Dr Pauline Crawford-Omps, Chairperson of the Permanent Commission for Social Issues and Women Entrepreneurs at WUSME, and ...
May 15th, 2017 – It is now online, in website section dedicated to publications, the new WUSME MAGAZINE special edition, a magazine sp...
CHINA (Shanghai), April 11th, 2017 – WUSME President Gian Franco Terenzi together with WUSME Vice President for China Ms. Rongyong Yan...