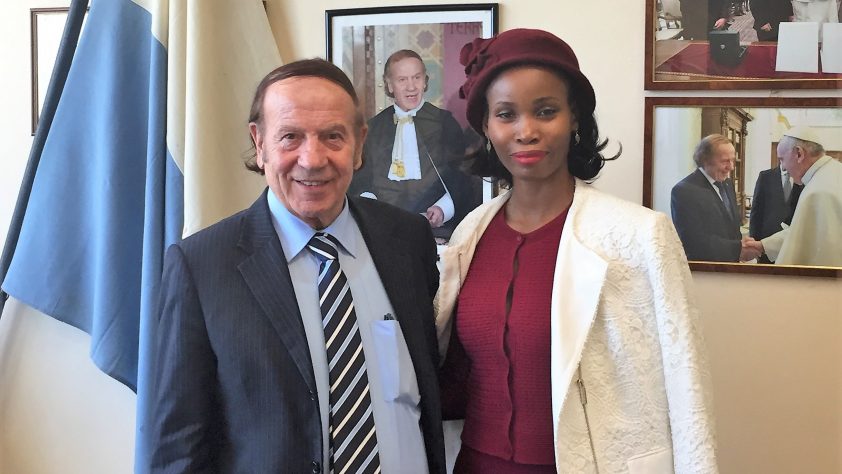 President Gian Franco Terenzi meets WUSME Ambassadress in Angola Conceição Vaz Pedro
REPUBLIC OF SAN MARINO, May 5th, 2017 – In Africa, the presence of the WUSME has been strengthened through the appointment of nine WUSME Ambassadors with specific reference areas. Among the countries also Angola, in Central Africa, represented by the WUSME Ambassadress Ms. Conceição Vaz Pedro. In recent years Angola has been the African country with the highest economic growth driven mainly by oil extraction. In addition, Angola according to the latest data, is diversifying the economy to offer new development opportunities and to foster national and foreign investments (in-depth article: https://nationalaccordnewspaper.com/angola-steady-growth-prospects-follow-liberalization-diversification/).
WUSME Ambassadress Ms. Conceição Vaz Pedro pictured with WUSME President Gian Franco Terenzi in Headquarters of San Marino Republic
Related Post
BUDAPEST – November 6th, 2017 – On occasion of the Algeria National Day Reception of the Embassy in Budapest on 6th November 201...
November 6th, 2017 – WUSME submitted its new Commitment on Engagement for the period April 2015 – September 2017, as requested b...
MILAN (ITALY) – October 23th, 2017 – On the occasion of the 9th International Social Commitments Awards held in Milan (Italy) on...