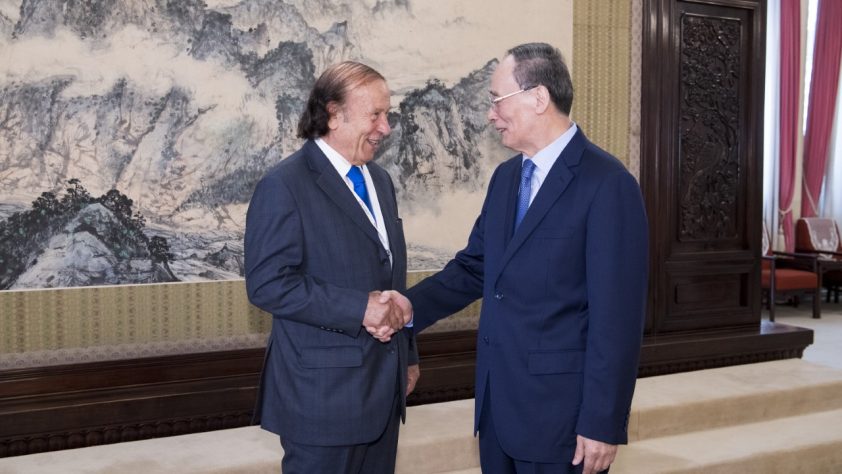 President Terenzi in China to attend the "International Forum of Former World Leaders"
4th October, 2018 – WUSME President Gian Franco Terenzi attended an important International Forum of Former World Leaders held from 28 to 30 September 2018 in Beijing. The event corresponded to the 35th Annual Plenary Assembly of the InterAction Council, an international organization bringing together former world leaders to unite their energies, experiences and international contacts and develop and encourage change in the world.
The forum was attended by eminent representatives of institutions from over 40 countries. Present many former Heads of State, Prime Ministers and Ministers.
On the occasion, WUSME President met with prominent dignitaries on the institutional scene, such as H.E. the Vice President of the People's Republic of China Mr. WANG Qishan.
The event focused on highly significant topics, such as artificial intelligence, climate change and the commercial war affecting the global economy.
On the sidelines of the Conference, President Terenzi had the opportunity to explore opportunities related to the organization of an International Conference of SMEs to be held in China in year 2019.
In the picture: meeting between Mr. Gian Franco Terenzi and H.E. Chinese Vice President Mr. Wang Qishan
Related Post
October 5th, 2018 – The WUSME and the CASME (China Association of Small and Medium Enterprises) signed a Memorandum of Understanding i...
20th September, 2018 – On the occasion of his visit to the U.A:E. from 26th to 28th June 2018, General Secretary Norbert Knoll von Dor...
REPUBLIC OF SAN MARINO, 7th August, 2018 – In Southeast Asia the presence of WUSME has been strengthened by the appointment of Okhna Rosel...