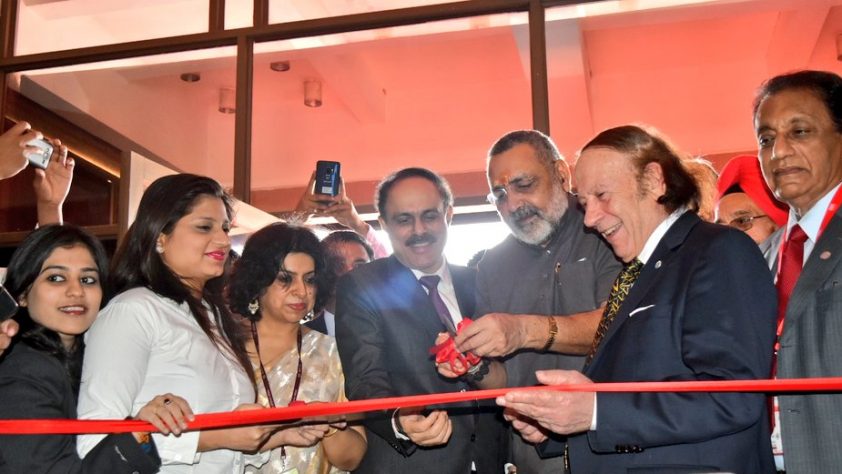 WUSME at the International SME Convention in New Delhi
NEW DELHI (INDIA) – April 25th, 2018 – Just ended the first INTERNATIONAL SME CONVENTION held in New Delhi (India). The event theme "Business Beyond Borders" has been organised by the Ministry of Micro, Small and Medium Enterprises of the Government of India in conjunction with WUSME (International Organization committed to supporting SMEs in the world and formally recognized by the United Nations by virtue of the Consultative Status at UN ECOSOC since 2013), INDIA SME FORUM (primary Indian organization in support of SMEs) and with other international organisations from across 30 countries.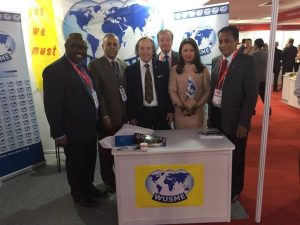 Over 400 entrepreneurs from India, 160 Small and Medium Enterprises representing 39 countries among which, to name a few, Australia, Austria, Cameroon, France, Ghana, Guinea, Hungary, Indonesia, Italy, Kenya, Korea, Poland, Russia, Spain, participated in the three days of work.
The Convention focused on international best practices for the development and cooperation of SMEs, business opportunities at global level and issues women entrepreneurs tackle. The event focused on strengthening bilateral relations between several countries by hosting specific sectoral focus sessions, from agriculture to health, from strategic defense to education, from digital entertainment to waste management.
To represent the WUSME Organization, President Gian Franco Terenzi, always dedicated to SMEs. During his speech, he highlighted the importance of the Convention as moment for international gathering of all those dealing with small and medium-sized enterprises, as well as discussing the difficulties, challenges and opportunities they face. In particular, WUSME President Terenzi stressed how today the new technologies exceed geographical limits and allow people to interact.
"With the new technologies, such as artificial intelligence and predictive analysis – WUSME President said- we try to achieve maximum efficiency, and this could be a solution to many unresolved problems.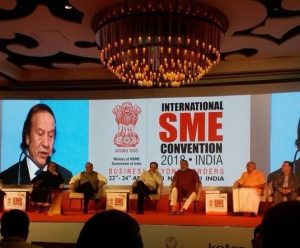 And he added: "For the first time in many years, technologies, such as the blockchain are offering the community the possibility to achieve an inclusive growth and shared widespread prosperity".
The new rules are also the result of the creativity, commitment and stimulation of new realities which, even if born as small businesses, today have become an example of a new model of development. Small entrepreneurs can be protagonists of the ongoing change and supporters of a stable, lasting and profitable economic growth globally.
Photo No. 1: WUSME President Gian Franco Terenzi pictured with Shri Giriraj Singh Hon. Minister of State for MSME and MSME Secretary, Dr Arun Kumar Panda
Photo No. 2: left to right: Dr. Dogad Dogoui, Africa SMB Forum President, Dr. Arun Agrawal, WUSME Ambassador New Delhi (India), Dr. Gian Franco Terenzi, WUSME President, Norbert Knoll von Dornhoff, WUSME General Secretary, Oknha Roseline SO, WUSME Ambassadress in Cambodia and Dr. Nawaz Rajabdeen, WUSME Ambassador in Sri Lanka.
Photo No. 3: A moment of the speech by Dr. Gian Franco Terenzi, WUSME President
Related Post
MONTICHIARI (ITALY) – 14th June, 2018 – From May 17th to 19th, 2018 WUSME attended the fourth edition of BIE, Brescia Industrial Exhibit...
PARIS (FRANCE) – 6th June, 2018 – The ninth edition of SINO-EUROPEAN ENTREPRENEURS SUMMIT (SEES) was held in Paris (France) on 4rd a...
PARIS (FRANCE) – 4rd and 5th June, 2018 – A delegation of WUSME (the World Union of Small Enterprises – International Organiza...