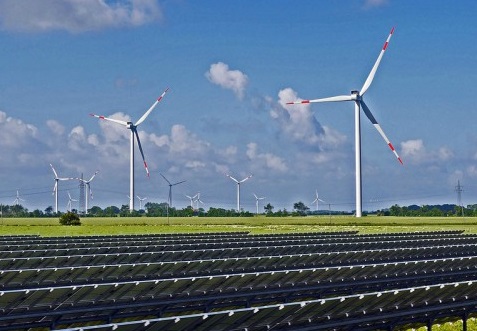 4 Times India made sustainability its priority
April 5th, 2018 – India had an important economic growth in the last few years and, according to forecasts, also for 2018 positive values will be recorded in the field of exports and investments. Therefore the country grants interesting business opportunities for companies worldwide. In preparation for the International SME Convention in New Delhi scheduled in April 22nd-24th, 2018 shown below there are the main sectors where India has developed.
1. Easy-Breezy India
With an overall target of achieving 175 GW of renewable energy by 2022, the Ministry of New and Renewable Energy has set a target of 60,000 MW for the country's wind energy production, a goal that India is close to achieving with the recent developments in the wind energy sector. With investors pouring in investments in the sector, India registered a record capacity addition of 5502.39 MW of wind power in 2016-17, exceeding its target by 38%.
Wind energy, now, is also the cheapest source of clean energy in India, priced at an all time low of Rs 2.43 per unit.
2. Priority #1 – Better Air
With plans to go all-electric by 2030, the Government of India has been directing the auto industry to move to cleaner technologies. In one such case, going against the automobile industry's interest, India stood up for sustainability and better air and implemented the Bharat Stage IV (BS IV) norms for automobile emissions. The shift from BS III to BS IV will slash emissions by a great deal.
3. Sunny Days Ahead
India's geographical position on the globe ensures that it receives ample sunshine throughout the year. Taking full advantage of its geographical location, India recorded its biggest ever solar power capacity addition of 5525.98 MW in 2017-18. India also houses the second largest solar power plant in the world. Spread across 2,500 acres of land and consisting of 2.5 million solar panels, the power plant in Kamuthi, Tamil Nadu, was built in a record time of just 8 months!
4. Smart Like That
India took a giant leap towards sustainability when it launched the Smart Cities Mission in 2015. With sustainability at the core and adequate water supply, electricity connections, affordable housing, robust IT connectivity, cleaner, safer and more inclusive cities, as the end goal, the Government of India aims to develop 100 smart cities under this scheme. This also marked the start of investments in urban sector being made on the basis of competitive selection among cities, to be taken up further for the project.
More… http://www.makeinindia.com/four-times-india-made-sustainability-its-priority
Photo: Green.it
Related Post
AUSTRIA – On January 9th, 2019 a cooperation agreement has been signed between WUSME and Europaescher Interessenverband Handel-Gewerbe...
BINH DUONG NEW CITY (VIETNAM) – On 25 and 26 November, 2018, WUSME participated in the Horasis Asia Meeting held at in Binh Duong New ...
KATOWICE (Poland) – December 6th, 2018 – WUSME is participating in COP24, the UN World Conference on Climate Change scheduled for De...