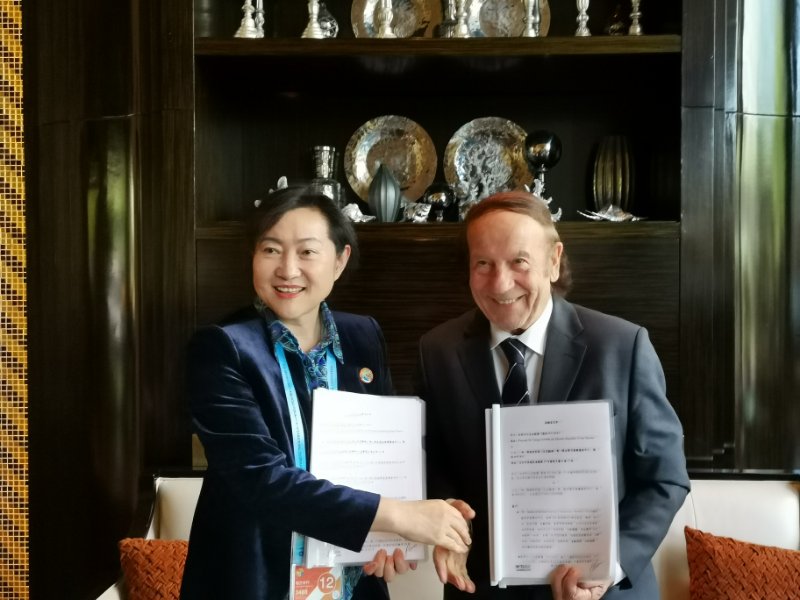 WUSME and BELT & ROAD SERVICE CONNECTIONS signed a Memorandum of Understanding
BEIJING – April 25th, 2019 – WUSME and BELT & ROAD SERVICE CONNECTIONS, platform for the integration of international services resources (BNRSC), signed a Memorandum of Understanding in Beijing on 25th of April 2019, under which they will commit to support the development of Small and Medium Enterprises along the Belt and Road, the infrastructure initiative announced for the first time by Chinese President Xi Jinping in 2013, embracing 70 countries in 3 continents.
In this perspective, WUSME and BELT & ROAD SERVICE CONNECTIONS agreed to integrate their respective resources in different sectors through the connection with companies, market, government, companies and service organizations. The two Organizations will conduct a series of activities and initiatives useful to establish a concrete and solid network of relations among SMEs, related associations, institutions and international organizations, with the aim of encouraging the emergence and dissemination of opportunities for cooperation and reach a global consensus.
WUSME and BELT & ROAD SERVICE CONNECTIONS will focus, in particular, on opportunities and resources both at home and abroad, which can help Small and Medium Enterprises to invest and start cooperation and collaboration processes in the Belt & Road economic zone.
Photo: WUSME President Gian Franco Terenzi with Wang Li, BNRSC President.
Related Post
February 17th, 2020 – WUSME is accredited at the United Nations Office in VIENNA (UNOV) for year 2020 as well. Representatives appoint...
Republic of San Marino – February 12th, 2020 – WUSME President Franco Terenzi offered support to China, following the outbreak o...
BUDAPEST (HUNGARY) – January 20th, 2020 – WUSME General Secretary Prof. Dr. Norbert Knoll von Dornhoff met Margit Batthyany-Schmidt,...