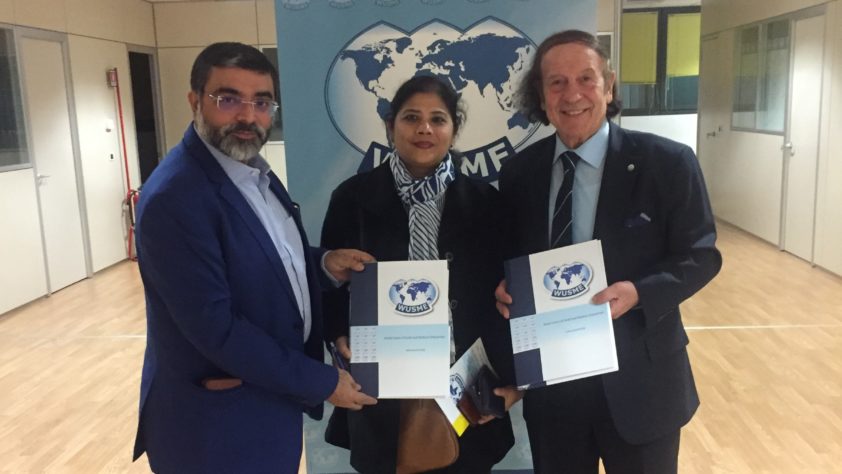 WUSME and ISF signed a Memorandum of Understanding
REPUBLIC OF SAN MARINO – March 30th, 2019 – WUSME and ISF (India Sme Forum) signed a Memorandum of Understanding in the Republic of San Marino Headquarters, on 30th of March 2019, under which the two organizations are committed to promote cooperation between Small and Medium Enterprises and Crafts and foster economic exchanges.
In this perspective, WUSME and ISF agreed to collaborate combining the respective competences in support of the growth of SMEs in areas of common interest, implement projects as well as organize and promote meetings, missions and events.
Photo: WUSME President Gian Franco Terenzi with Mr. Vinod Kumar, WUSME Member of the Board of Directors and President ISF and Mrs. Sushma Morthania, Member of the WUSME Permanent Commission on Social Issues and Women Entrepreneurship and ISF Director General.
Related Post
REPUBLIC OF SAN MARINO – With deep sorrow WUSME announces the sudden and unexpected demise of President Dr. Gian Franco Terenzi, on Ma...
REPUBLIC OF SAN MARINO – April 24th, 2020 – As a result of the meeting held by the Special Committee on April 10, 2020 and approval ...
REPUBLIC OF SAN MARINO – On Friday, April 10th, 2020, the WUSME Board Special Committee held a meeting in the Headquarters of San Mari...