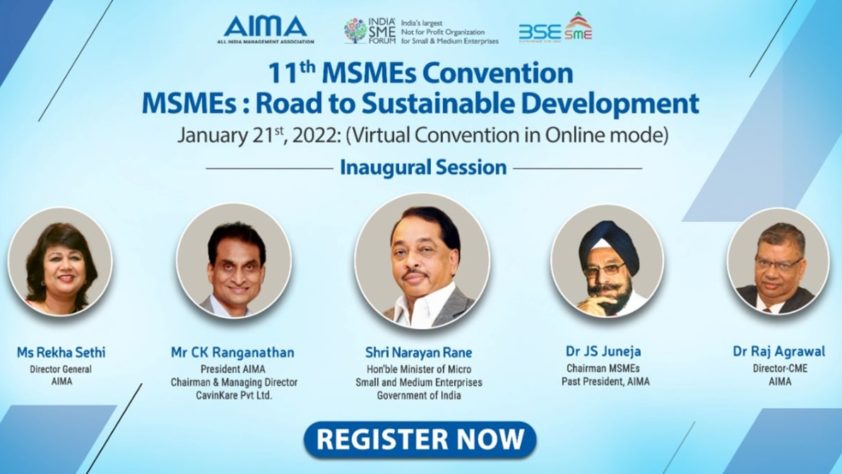 WUSME International Partner of AIMA's 11th MSME CONVENTION
January 21 th, 2022 – WUSME is International Partner of the AIMA's 11th MSME CONVENTION to be held virtually on Friday January 21st, on the theme "MSMEs: Road to Sustainable Development". The convention will be graced with the presence of Hon'ble Minister of Micro Small and Medium Enterprises, Govt. of India – Shri Narayan Rane.
WUSME will actively participate in the discussion, with particular focus on "MSME: developing entrepreneurial culture". President Barbara Terenzi will convey an institutional message while WUSME Board Member Mr. Michel Fossaert will briefly illustrate international experiences and perspectives on SMEs sustainable development, also through the expansion of entrepreneurial culture, in view of a further active cooperation between WUSME and AIMA.
To attend the event, register here: https://www.aima.in/events/11th-msme-convention-january-2022
Related Post
On the occasion of the publication of the 2022 Annual Report, we recall that May 20 marks the third Anniversary of the sudden demise of  TE...
WUSME joined the Annual Investment Meeting 2023 (AIM 2023) held in Abu Dhabi from 8 to 10 May 2023 as International Partner, and actively co...
As International Partner of the Annual Investment Meeting 2023, WUSME will be present at the Convention taking place in Abu Dhabi on May 8 t...