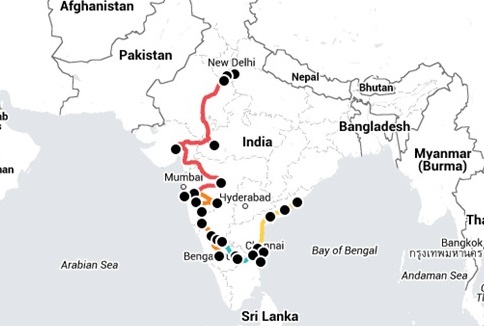 Business opportunities in India: the industrial corridors
December 19th, 2017 – Today, India presents interesting business opportunities for companies worldwide. The exponential growth of the Indian economy, particularly in recent time, has produced a significant development of this market. In fact, the strategic focus of the Governemnt today is on the promotion of manufacturing and urbanization, as part of the major programme "Make in India".
• Five industrial corridor projects across India have been identified, planned and launched by the Government of India. These corridors are spread across India, with strategic focus on inclusive development to provide an impetus to industrialization and planned urbanization. In each of these corridors, manufacturing will be a key economic driver and these projects are seen as critical in raising the share of manufacturing in India's Gross Domestic Product (GDP) from the current levels of 15% to 25% by 2025.
• Smart Industrial Cities are being developed along the Corridors. These cities are being developed to integrate the new workforce that will power manufacturing and will lead to planned urbanization.
More….. http://www.makeinindia.com/live-projects-industrial-corridor
Photo: 99Acres
Related Post
Experience shows that simply investing in sales training does not guarantee improved results. Here, we examine five pitfalls that are holdin...
While P2P lending is relatively young in Southeast Asia, there is still ample room for growth Peer-to-peer (P2P) lending has emerged as a po...
Trade bodies propose REACH authorisation improvement measures November 22th, 2018 – EU authorities should "motivate" compa...