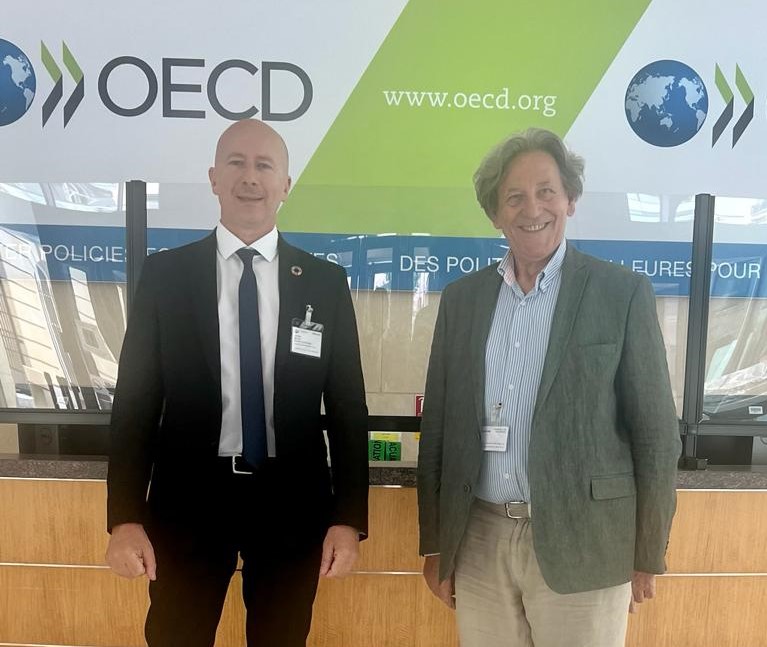 WUSME joined the OECD at the "SME AND ENTREPRENEURSHIP STAKEHOLDER DIALOGUE" in Paris
On the occasion of MSME Day, Mr. Michel FOSSAERT, WUSME Board Member, and Mr. Michele ORZAN, WUSME Ambassador in Austria, attended the "SME and Entrepreneurship Stakeholder Dialogue" event organized by OECD in Paris on 26 June 2023 in preparation of the ministerial meeting of 27-28 June 2023.
The event was aimed at exploring further the private sector's role in the context of the overarching theme of the ministerial, "Managing the Shocks and Transitions – Future-Proofing SME and Entrepreneurship Policies".
The event was also to assess the current situation of SMEs and entrepreneurship, identify main business priorities, opportunities and challenges, and engage in a dialogue with selected Ministers, and then explore an agenda for further action at the private sector level. Discussions carried out during this event will help set the scene for the 27-28 June 2023 OECD SME Ministerial meeting.
The discussions held at the meeting helped prepare the ground for the OECD SME Ministerial Meeting on 27-28 June 2023.
The result of the discussions can be summarized as follows.
Over the past years, the global economy has suffered big shocks that have had a real impact on small and medium-sized enterprises and entrepreneurs.
While government support protected SMEs from the economic impact of the COVID-19 pandemic, new threats have emerged.
Rising geopolitical tensions and global risks, high inflation, tightening monetary and fiscal policies, labour shortages, high trade barriers and slowing integration in global value chains all contribute to a more challenging business environment for SMEs.
Now, there is an urgent need to accelerate the contribution of SMEs and entrepreneurship to the green and digital transitions and help them to navigate a changing international trade and Investments landscape.
Today this means a big challenge for a lot of SMEs. That means integration into a series of networks, including global production and supply-chain networks and the role of women led-businesses in international trade, knowledge and innovation networks, and skill ecosystems. OECD analyzes how the main policies in place with their 38 members ensure SMEs can integrate these networks and benefit from the ongoing transformations they go through.
WUSME is willing to bring to all SMEs in the world a better support through information and training, sharing best new practices and developing good cooperation with OECD members.
Related Post
As the United Arab Emirates prepares to host the United Nations' 2023 Climate Change Conference (COP28) this fall, WUSME is sharpening its...
On July 29, WUSME Board Member Mr. Michel FOSSAERT spoke at the virtual conference organized by the Cameroonian NGO Think and Do Tank THE OK...
WUSME President Barbara Terenzi addressed the INDIA 100 – MSME Marathon Boardcast organized by the India SME Forum, Partner of the WUS...