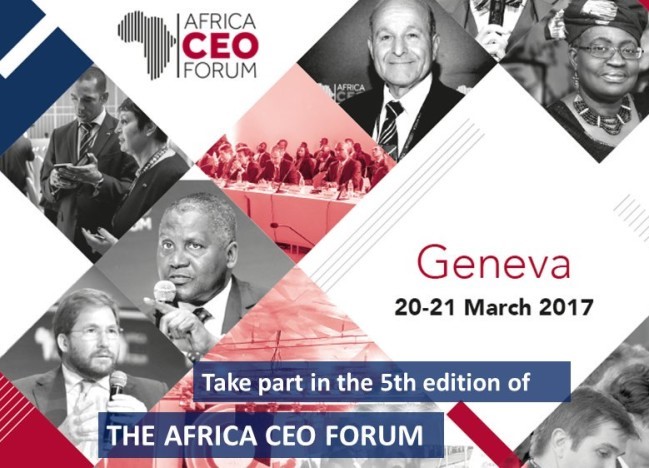 What to expect from the Africa CEO Forum 2017
GENEVA, March 20th, 2017 – For the fifth time since it's inception in 2012, the Africa CEO Forum is set to hold its annual conference, gathering more than 1,000 personalities, key decision makers in industry, finance, and politics from the African continent and around the globe. This edition will take place from 20 – 21 March in Geneva, Switzerland and will focus on how to succeed in this new economic cycle on the continent.
Having cemented its status as the foremost meeting dedicated to the development of the African private sector, this year's theme is "Rethinking Africa's business model." The conference offers a unique platform for facilitating thought-provoking and forward-thinking discussions, as well as unique opportunities for business development, strategy refinement and improving the overall competitiveness of African businesses.
Geneva is a prime location for an event of this sort as it is positioned in one of the most important financial centers in Europe, making this meeting an effort to encourage financial flows and international investment toward the African continent. Also, Geneva serves as a base location for the headquarters of many international organizations, including the United Nations Organization, the World Trade Organization, the International Organization of Employers and the International Labour Organization.
The most anticipated discussion at the forum is expected to be a debate on the economic boom of the 2000s, the context of economic growth in Africa and the critical decisions that must be taken to reach rapid and sustainable growth. Therefore, the meeting is likely focused on the development priorities of international investments in Africa. Experts and delegates will be expected to share their thoughts on the continent's likely growth trajectory for the next 5-10 years.
Some of the major themes will include unleashing innovation and the entrepreneurial potential of youth and women and making a case for Africa to become more attractive for international investors. Another theme will be focused on ensuring efforts are made towards turning African stock exchanges into competitive powerhouses.One of the underlying objectives of the meeting will be to explore the possibility of creating the next generation of African exporters.
A number of prominent business leaders have confirmed their attendance including President Macky Sall of Senegal, Ethiopia Prime Minister, Mr. Hailemariam Dessalegn, many delegations from: Niger, Burkina, Liberia, Equatorial Guinea, numerous African finance ministers and a host of other decision makers. Below are some of the African and international personalities who will take part in the discussion and debate at the Africa CEO Forum 2017: • Akinwumi Adesina – President, African Development Bank; • Paul Polman – CEO, Unilever; • Mo Ibrahim – President, Mo Ibrahim Foundation; • Naguib Sawiris – CEO, OTMT Investments; • Phuthuma Nhleko – Chairperson, MTN; • Tonye Cole – Co-Founder and Group Executive Director, Sahara Group; • Oluwatoyin Sanni – CEO, United Capital; • Ibukun Awosika – Chairperson, Firstbank; • Mohammed Dewji – CEO, Mohammed Enterprises; • Bruno Mettling – CEO, Africa and Middle East, Orange; • Diego Aponte – CEO, MSC; • Benedict Oramah – CEO, Afreximbank; • Marie-Yvonne Charlemagne – CEO, Rougier; • Sola David-Borha – CEO, Stanbic IBTC Holdings; • Julius Kipng'etich – CEO, Uchumi Supermarkets.
The Africa CEO Forum 2017 will offer 20 sessions for debate and reflection, allowing participants to hit strategic topics for driving African corporate growth including: digital transformation, fintech, agribusiness, private equity, emerging African champions, electricity and innovation.
Written by Ventures Africa
Photo: Africa Ceo Forum
https://venturesafrica.com/what-to-expect-from-the-africa-ceo-forum-2017/
Related Post
September 7th, 2021 – The pandemic has been anything but business as usual for women entrepreneurs. Women entrepreneurs have sacrifice...
August 30th, 2021 – More than 70 percent of Small and Medium Enterprises (SMEs) in the construction and manufacturing sector in the Mi...
August 24th, 2021 – Be it public or private, cloud adoption in the Asia Pacific continues to see increasing adoption as more companies...