Meeting of the WUSME Board of Directors
Oct 11,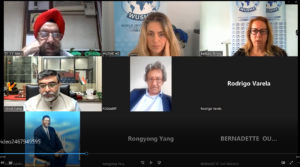 2022 – The WUSME Board of Directors met on Tuesday Oct 11h, 2022 in the Headquarters of San Marino and by videoconference to discuss the initiatives under progress. WUSME President Barbara Terenzi, who chaired the meeting, focused in particular on the inputs collected, among Members of the Board and of the Permanent Commissions, on the theme "SMEs tackling CLIMATE CHANGE" in view of the participation of WUSME in COP27. The meeting was also occasion to adress the theme of the the 61st session of the United Nations Commission for Social Development (CSocD61) "Creating full and productive employment and decent work for all as a way of overcoming inequalities to accelerate the recovery from the COVID-19 pandemic and the full implementation of the 2030 Agenda for Sustainable Development", in view of the written statement to submit as Organization in Special Consultative Status with UN-ECOSOC.
Related Post
On the occasion of the publication of the 2022 Annual Report, we recall that May 20 marks the third Anniversary of the sudden demise of  TE...
WUSME joined the Annual Investment Meeting 2023 (AIM 2023) held in Abu Dhabi from 8 to 10 May 2023 as International Partner, and actively co...
As International Partner of the Annual Investment Meeting 2023, WUSME will be present at the Convention taking place in Abu Dhabi on May 8 t...