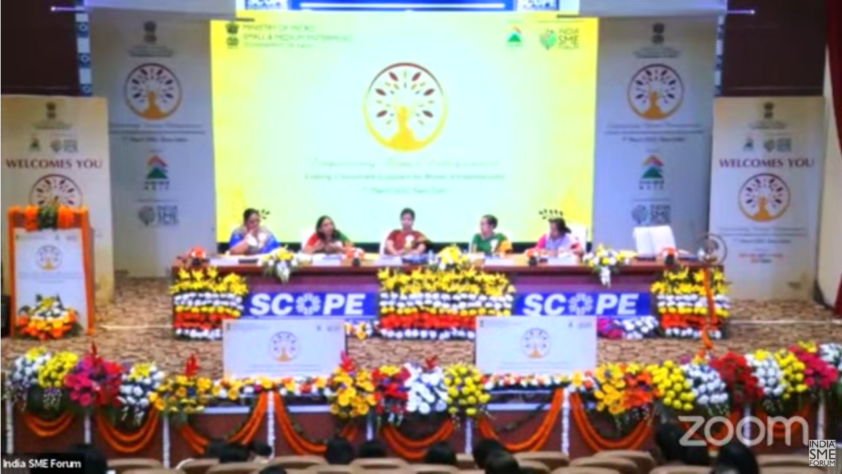 WUSME at "SHAKTY NATIONAL CONVENTION for Empowering Women Entrepreneurs 2022" in New Delhi
NEW DELHI (INDIA) – March 7th, 2022 – WUSME attended "SHAKTY NATIONAL CONVENTION for Empowering Women Entrepreneurs 2022", held on 7 March 2021, in New Delhi (India) and virtually, and organized in association with the Ministry of Micro, Small and Medium Enterprises, Government of India and India SME Forum.
WUSME President Barbara Terenzi and Chairwoman of the Permanent Commission for Women Entrepreneurship Dr. Pauline Crawford intervened as International Speakers in the session entitled "Enabling an Entrepreneurial Ecosystem for Women: Experiences from around the World".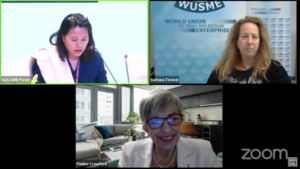 In her speech, WUSME President remarked how SMEs are an important part of the economy in every country of the world. "In particular – WUSME President said- we must also consider women and young enterprises. Thanks to the support of its network and opportunity for exchange between the different countries, WUSME is voice of SMEs to Institutions worldwide, to share ideas and promote best practices".
Dr. Pauline Crawford focused her speech stating: "I am here today to represent the Permanent Commission of WUSME for Women Entrepreneurship. On behalf of WUSME, we investigated what was happening in the last COVID years in India, Africa and Asean countries. Some of the problems are similar. Women have to deal with many very facets of business and life. There is a financial and a business issue obviously, but there is always also a social issue. The ability to share is really important. WUSME is also looking at education for women entrepreneurs across the world, because education is essential for them. Women are extremely talented, have incredible natural skills for business, that maybe are underestimated".
Related Post
VIENNA – On June 14th, 2022, WUSME President Barbara Terenzi met Ambassador of the Republic of San Marino in Vienna and Permanent Repr...
VIENNA – On June 14, 2022, a WUSME delegation, composed by President Ms. Barbara Terenzi, General Coordinator Ms. Maria Valeria Pasqui...
VIENNA – June14th, 2022 – WUSME took part in the annual R20 AUSTRIAN WORLD SUMMIT held in Vienna on May 28th and 29th 2019. The even...