WUSME attended the 27th meeting of the UNFCCC Standing Commitee on Finance
WUSME attended the 27th meeting of the Standing Committe on Finance of UNFCCC held on March 22-23, 2022 in Cape Town, South Africa and virtually.
Among the items on the agenda, the Committee was invited to consider the mandates provided by COP 26 and Conference of the Parties serving as the meeting of the Parties to the Paris Agreement (CMA 3) at its third session, with a view to agreeing on the scope, outputs and organization of work in 2022.
In his brief speech, WUSME delegate and Ambassador in Chile, Mr. Alessandro Bozzo, presented the Union of Small and Medium Enterprises, recalling its commitment as Observer Organization to the UNFCCC and bringing his own experience on SME financing.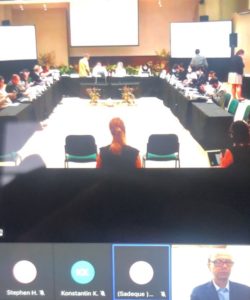 As WUSME President Barbara Terenzi underlined in her institutional message to COP26, " The WUSME Association continues carrying on its commitment to raise awareness among Institutions in order for SME to be supported in the different stages of the energy transition, and to guarantee aid, promoting easier access to immediate funding and with a simplified bureaucracy.
Photo: a moment of the meeting.
Related Post
VIENNA – On June 14th, 2022, WUSME President Barbara Terenzi met Ambassador of the Republic of San Marino in Vienna and Permanent Repr...
VIENNA – On June 14, 2022, a WUSME delegation, composed by President Ms. Barbara Terenzi, General Coordinator Ms. Maria Valeria Pasqui...
VIENNA – June14th, 2022 – WUSME took part in the annual R20 AUSTRIAN WORLD SUMMIT held in Vienna on May 28th and 29th 2019. The even...