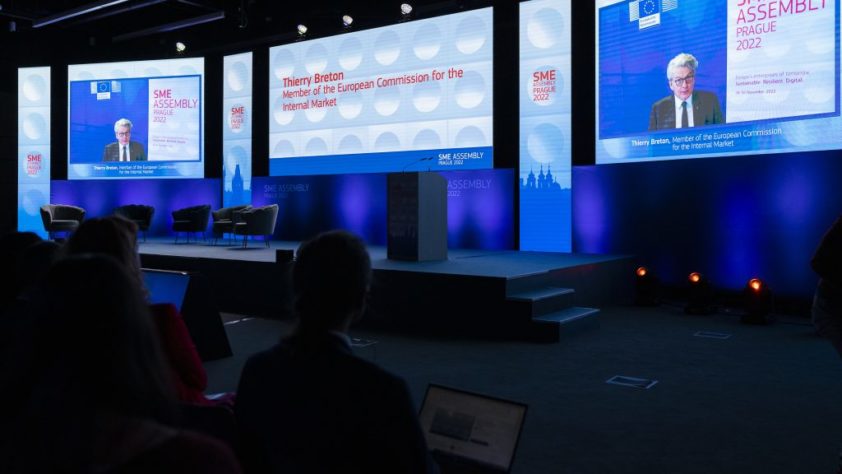 SME ASSEMBLY 2022: Europe's entreprises of tomorrow… sustainable, resiliant, digital.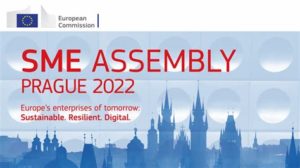 Nov 28-30, 2022 – This year SME Assembly was hosted, from 28 to 30 November 2022, by the European Commission along with the Czech Presidency of the Council of the EU in Prague, Czech Republic. The SME Assembly is the most significant event for small and medium-sized enterprises (SMEs) in Europe, bringing together a network of SME envoys, policy makers, SME representatives and civil society actors to create the governance structure of the small business act
Among the highlights of the three-day assembly, were the interventions of Thierry Breton, European Commissioner for Internal Market, Industry, Entrepreneurship and SMEs, Jozef Síkela, Minister of Industry and Trade of the Czech Republic and Petri Salminen, President of SMEunited, who inaugurated the second day of activities. Mr. Breton also introduced the SME Relief Package, which was announced by the President of the European Commission, which will focus on three main areas: combatting late payments, better regulations and access to finance. Commissioner Breton reassured that "SMEs are the beating heart of our Single Market economy". Minister Síkela Sikela, followed with his speech and highlighted the importance of working together on advancing the strategic resilience of the European economy, especially during challenging times, while SMEunited President Salminen focused on the potential of SMEs to respond to the European challenges while also highlighting the need for further support in the current constraining economic context. The official opening was followed by a series of simultaneous panel discussions, policy workshops and masterclasses on a range of topics.
More… https://single-market-economy.ec.europa.eu/smes/sme-strategy/sme-assembly_en
Related Post
In the last three years, small and medium-sized enterprises (SMEs) and entrepreneurs have been bounced from crisis to crisis. They had barel...
Small and medium-sized enterprise (SME) development is critical for broad-based and sustained economic growth as Latin America and the Carib...
Small and medium-sized enterprises (SMEs) are a force to be reckoned with. They make up 90% of businesses globally, create two out of every ...