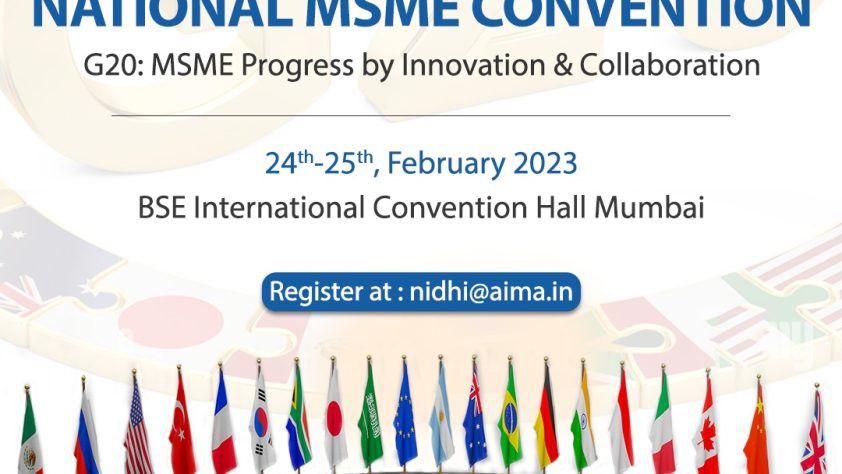 WUSME at the 12th AIMA MSMEs Convention
Upon invitation of WUSME Director Dr. J.S. Juneja, also Chairman of the MSMEs Commission and Past President of AIMA, WUSME President Barbara Terenzi attended the 12th edition of the AIMA MSMEs Convention held from 23 to 24 February 2023 in Mumbai, in collaboration with Bombay Stock Exchange (BSE ) and in association with Bombay Management Association.
Ms. Terenzi addressed the event organized by AIMA on the theme "G20: MSMEs progress by innovation and collaboration".
In her speech, WUSME President highlighted how it is "of great importance that, this year, India has assumed the presidency of the G20 to promote and address the challenges of MSMEs also thanks to the support of Organizations and Associations acting as link between Institutions and SMEs."
On the theme of the Convention, she underlined how it is "necessary to create the tools, with the help of all parties, to encourage innovation among SMEs and achieve the sustainable development goals set in the 2030 agenda." In recent years, WUSME and AIMA have started a fruitful collaboration for the benefit of micro, small and medium enterprises.
Related Post
WUSME attended, as International Partner, the 3° edition of the International SME Convention, held in New Delhi (India) from 19 to 21 of Ma...
WUSME will join the ANNUAL INVESTMENT MEETING 2023, to be held in Abu Dhabi from 8 to 10 of May 2023, as International Partner. This year...
WUSME Ambassadress in Connecticut, Ms. Fran Pastore, attended the 67th Session of the United Nations Commission on the Status of Women (CSW6...