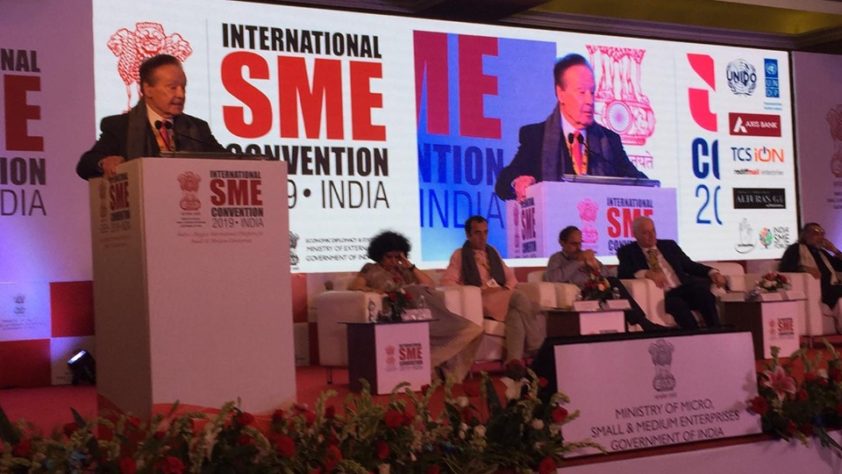 WUSME at the International SME Convention 2019 in New Delhi
The second edition of the International SME Convention (ISC) was held in New Delhi (India) from 27nd to 29th June 2019, hosted by the Federal Ministry of Small and Medium Enterprises of the Indian Government and jointly organized by INDIA SME FORUM, with UNIDO and UNDP as institutional partners.
ISC has been conceived as platform to find business partners and allow intense commercial discussion with specific focus on the interaction between international and Indian SMEs Entrepreneurs.
The three-day event was inaugurated by Hon. Minister of MSME Nitin Gadkari, who shared his vision and ideas for the enhancement of the MSME Sector in India and encouraged entrepreneurs to boost exports, innovation and generate employment.
WUSME actively contributed to the Convention, for its original affiliation to the event and ongoing commitment in support of SME development and cooperation.
During the inauguration ceremony, WUSME GS Dr. Norbert Knoll conveyed the message of WUSME President Gian Franco Terenzi, praising ISC as important initiative in support of the vast world of craftsmanship and micro-enterprise, mainly family-run or female-run businesses. as widespread phenomenon in India as well as in other countries of the world, highlighting their strong development also by virtue of the specific skills achievable through the new technologies.
In the message, President Terenzi congratulated Hon. Minister Nitin Gadkari for his support to micro-enterprises, especially those engaged to meet the demanding needs of the market and employment on the national territory. "The commitment of WUSME is also to facilitate the transfer of technological know-how, especially in the sectors where it is more needed, and promote training as vital factor for the success of companies over time. In the same way, our Organization is addressing some urgent issues, such as the fight against climate change in which we believe SMEs can play an active role and provide an important contribution".
New technologies, digitalization and projects of Small and Medium Enterprises, aimed at protecting the environment and fighting climate change, represent today a new model of development for the international economy, with benefits in terms of employment. Small entrepreneurs and Craftsmen have the opportunity to be main actors of this change and promote – through research and innovation- an effective, long-lasting and prosperous global economic growth.
Photo: WUSME GS Dr. Norbert Knoll
Related Post
Madrid (SPAIN) – 6th December, 2019 – On Thursday, December 6th, 2019, under the COP25, the UN Conference on climate change, WUS...
Madrid (SPAIN) – Today, Friday December 6th, 2019, during the COP25 held in Madrid, WUSME Ambassador Mr. Dogad Dogoui met Mr. Bertrand...
Madrid (SPAIN) – December 4th, 2019 – The WUSME is attending COP25, the UN Conference on climate change, which brings together i...